Runners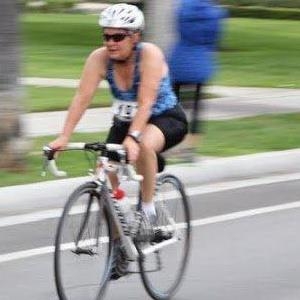 I've never been very athletic, but started running in 2001 after a sizeable weight loss, and did my first triathlon with Team in Training at the Day at the Beach tri in Hermosa Beach in 2004. I had so much fun that I kept training, and did Wildflower in 2005 along with some other half-marathons and assorted triathlons. I did a few sprints, and then did my first full marathon at LA Marathon in 2008. I did quite a few races that year, and was trying to train for a half-ironman distance tri that year when I started feeling tired. I remember thinking that I was training so hard, but not getting any better. In May of 2008, while running Mt. Rubidoux in Riverside, I felt dizzy and finally looked at my heart rate, which had spiked to over 200. I went to work but kept monitoring my heart rate and ended up being sent to a cardiologist directly. As it turned out, I had a condition called atrial fibrillation (afib), which causes irregular heart rates. The cardiologist said – no more running. I remember I was supposed to swim at Corona del Mar that night, and I asked if I could still do that (no). This was the start of about a 2 year process of seeing cardiologists, trying medications (yuck!) and trying to exercise without bringing on the afib. I finally had two ablations, which is a procedure that fixes the afib in 2010, and finally feel at this point that the afib is a thing of the past, and under control I have found that exercise is a great way to counteract the stress of work-I work as a Finance Director in a local government. Work hard, play hard!
Terri's Accomplishments:
2012-Los Angeles 13.1 Half Marathon
2012-Hollywood Half Marathon
2012-Ojai to Ocean Half Marathon
2012-Redlands Classic Public Ride
2012-Ojai Metric Century
2012-Big Rock Super Sprint
2012-Riverside Triathlon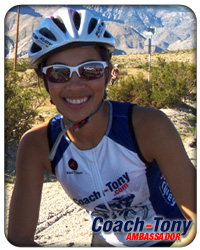 With a running background don't be surprised to see her podium at local 5Ks. Lizette wanted a chang from running so she added swimming and biking to the equation. Lizette is going to be very competitive in the Sprint, and Olympic distances.
Lizette's 2011 Accomplishments:
Race on the Base (First in Div)
Wildflower Olympic
Pasadena Sprint Duathlon (1st in Age)
Tour de Palm Springs + Palm Springs Half Marathon Brick Weekend
Desert Tri (6th in Age)
Grape Stomp Sprint Triathlon (1st in Age)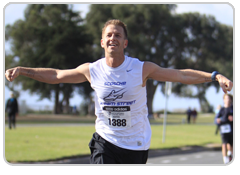 Marcus Marcuson had aspirations of qualifying for the Boston Marathon. Once we got started, he worked through a grueling travel schedule and ran his way from an 8 minute per mile to 7 minutes per mile. "Tony took me from 8 min miles to 7:25s and qualifying for Boston in six months. Thanks for the guidance and encouragement Coach." - Marcus Marcuson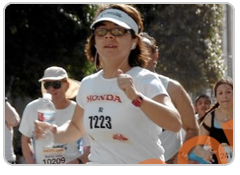 My name is Lizbeth Barcelo. I am 32 and have been running since the birth of my third daughter in 2006. I have completed the LA marathon twice and improving my time by an hour from the first to second. I have done several 5 and 10k's and was able to place second in one 5k for my age division. I completed the Long Beach 1/2 marathon last year and did the Surf city 1/2 marathon on 2/1/09 with a 20 minute improvement thanks to Coach Tony's training.
Read more...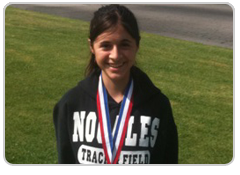 Anna is 16 years old and is a junior at Nogales high school. In August she broke the 5 year course record for the Baldwin Park 5k in her age division:19:03. Anna finished 3rd out of 130 girls in her same age group at her first invitational hosted by Bosco Tech at the Santa Fe Dam course. Her dream is to attend one of the military academies and run competitively in college.