Triathletes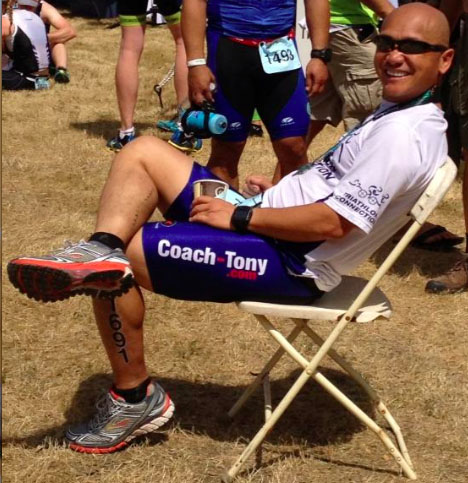 I've never been very athletic, but started running in 2001 after a sizeable weight loss, and did my first triathlon with Team in Training at the Day at the Beach tri in Hermosa Beach in 2004. I had so much fun that I kept training, and did Wildflower in 2005 along with some other half-marathons and assorted triathlons. I did a few sprints, and then did my first full marathon at LA Marathon in 2008. I did quite a few races that year, and was trying to train for a half-ironman distance tri that year when I started feeling tired. I remember thinking that I was training so hard, but not getting any better. In May of 2008, while running Mt. Rubidoux in Riverside, I felt dizzy and finally looked at my heart rate, which had spiked to over 200. I went to work but kept monitoring my heart rate and ended up being sent to a cardiologist directly. As it turned out, I had a condition called atrial fibrillation (afib), which causes irregular heart rates. The cardiologist said – no more running. I remember I was supposed to swim at Corona del Mar that night, and I asked if I could still do that (no). This was the start of about a 2 year process of seeing cardiologists, trying medications (yuck!) and trying to exercise without bringing on the afib. I finally had two ablations, which is a procedure that fixes the afib in 2010, and finally feel at this point that the afib is a thing of the past, and under control I have found that exercise is a great way to counteract the stress of work-I work as a Finance Director in a local government. Work hard, play hard!
Terri's Accomplishments:
2012-Los Angeles 13.1 Half Marathon
2012-Hollywood Half Marathon
2012-Ojai to Ocean Half Marathon
2012-Redlands Classic Public Ride
2012-Ojai Metric Century
2012-Big Rock Super Sprint
2012-Riverside Triathlon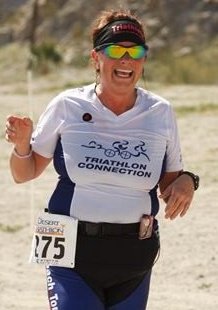 I was never an athletic person my entire life. In 2009, at the ripe age of 41, I decided I needed a change, get off my high blood pressure and high cholesterol pills and lose weight. So with a nudge from my mother-in-law, I signed up for my 1st 5k - Fontana Days. After I crossed the finish line, I decided I can DO THIS! I was then coerced to sign up for Long Beach Half Marathon. I cried crossing the finishing line. It was while training for my first marathon that I found triathlon. I had saw an add at the gym for a reverse tri in Apple Valley. I had read how important cross training was for runners. I had never swam before but 500 yards was doable, so I thought. I was hooked. I have lost 78 lbs since my first 5k and gained a confidence I never knew I had. I still can't believe I can call myself an Athlete or better yet, a TRIATHLETE! I also love being the Team's Cheerleader at events!
Barbara's Accomplishments:
Fontana Days 5K (2009 & 2010)
Playa Del Ray 5K (2009)
Long Beach Half Marathon (2009)
Mission Inn 10K (2009)
Surf City Half Marathon (2010)
Big Sur 10.6 Miler (2010)
Apple Valley Reverse Sprint Tri (2010)
Las Vegas Rock n' Roll Marathon (2010)
Desert Tri International Distance (2011 & 2012)
Grape Stomp Reverse Sprint - 1st place in age in 2011 (2012)
Wildflower Olympic Distance (2011 & 2012)
Turkey Trot - 3rd in Division (2011)
Tinseltown Reverse Sprint (2011)
Boise 70.3 (2012)
Mavericks Mud Run - 2nd in Age (2012)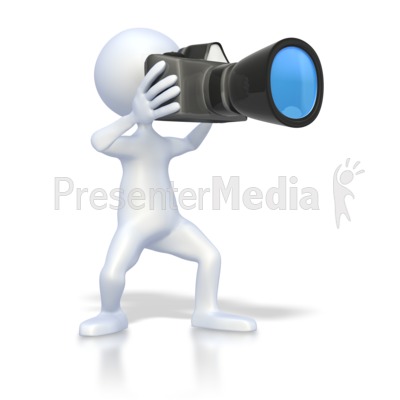 Alan started running in 2006 for fitness reasons and finished four LA marathons. While in the Philippines for a family vacation in August 2011, he witnessed several friends who joined the Ironman 70.3. This became a motivation for him to crossover into this multisport discipline. In September 2011, he joined Triathlon Connection to give him the community support and training plans for his first race. Since then, he has finished several races. He plans to race his first full Ironman by 2013
Alan's Accomplishments:
LA Marathon--2006

LA Marathon--2007

LA Marathon--2010

Turkey Tri--2011

Southern California Half Marathon--2012

Santa Clarita Century--2012

LA Marathon--2012

Big Rock Tri--2012

Boise Ironman 70.3--2012

Philippine Ironman 70.3--2012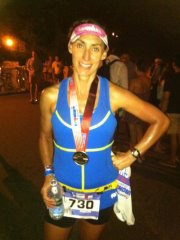 I've been running since 2004 to stay fit and started racing in 2005. My first race was a half marathon. From that point on, my casual running became a lifestyle. From 2005 thru 2010 I have completed many marathons and half marathons. Only when I decided to try an Ironman did I become interested in triathlon. I started doing a few short, local tris before completing a half Ironman in 8/2011. Shortly after that, I met Coach Tony and then the dream of a full Ironman started to become real. Coach Tony took my timid and poor swimming habits and reshaped them. I completed the 2.4 mile swim of my first Ironman in record time and finished the entire 140.6 miles on my feet and smiling. .
Cherilyn's Accomplishments:
Ironman New York 140.16 8/2012
Palm Springs 70.3 12/2011
Lake Stevens IM 70.3 8/2011
12 half marathons
5 full marathons
3 Olympic Triathlons
1 Sprint Tri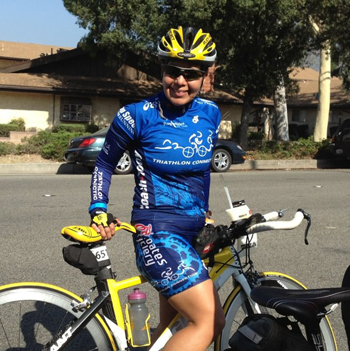 Bio TBD.
"I just want to say thank you for always being there for me and getting me through all the Ironman training. I never, in my dreams, thought I could get this fit. My weekly improvement has been amazing. I can't believe what I am doing! My swim has improved by 15 min to a best 1:31 for 2.5 miles. My bike is stronger, more confident, and down to 6:15 for 100 miles. My running is faster; 3:50 for 20 miles. I just thought you might want to know how your training plan has work for me. It hasn't been easy with heat, family, work ect but now I can't wait for Ironman AZ on November 18th. See at the finish line! Many thanks." - Anna
Anna's Accomplishments: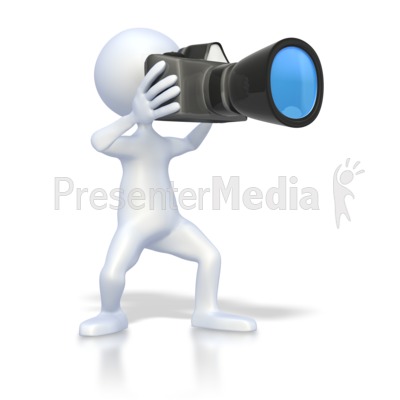 Bio TBD.
Ross' Accomplishments: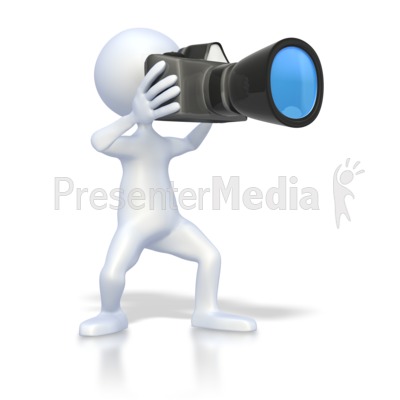 Bio TBD.
Joeseph's Accomplishments: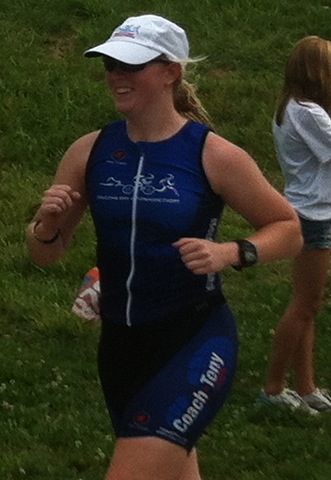 Completed her first triathlon in 2010 after her gymnastics coach told her triathlon would be a new fun challenge after college. She was hooked and has been competing in sprint and olympic distance triathlons as well as half marathons ever since. Her goal is to compete in a half ironman distance after finishing physical therapy school.
Kelsey's Accomplishments:
Pasadena Half Marathon
Nike Women's Half Marathon
Trizou Sprint Triathlon 2012 - 4th age group
Nixa Super Sprint Triathlon - 4th overall female
Summer Roundup Olympic Triathlon - 4th age group
WIN for KC Women's Sprint Triathlon
Dogwood Canyon 25K Trail Run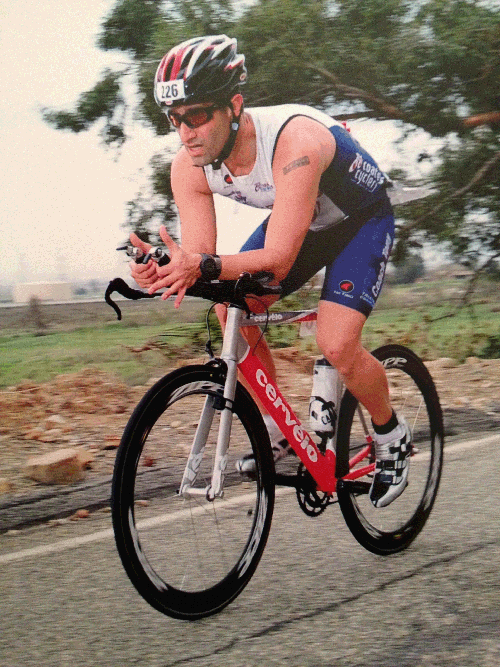 Bio TBD.
JR's Accomplishments: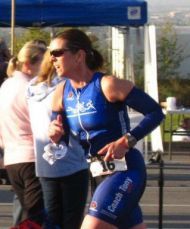 Bio TBD.
Jami's Accomplishments:
TBD
Grape Stomp Sprint Triathlon (3rd in Age)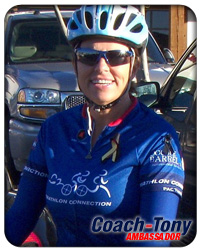 An ex couch potato who couldn't run for more than 60 seconds at a time, Janel decided to make a change and quickly was able to run 3 miles. Motivation can in the form of a sprint triathlon. Janel finished 2010 with the Vineman 1/2 Aquabike. With help from sister, fellow CT Athlete, and Ironman Cynthia Windell, Janel is headed for the half Ironman distance.
Janel's 2011 Accomplishments:
Desert Triathlon
Surf City - (first 1/2 marathon)
Tour De Palm Springs
Palm Springs 1/2 marathon
Desert Tri Sprint distance 4th in Div
Pasadena 1/2 Marathon
Camp Pendleton Mud Run
Holcomb Valley Trail Run
Barbs 70.3
Run Thru the Pines 10K
Disney 1/2 Marathon
Fearless Triathlon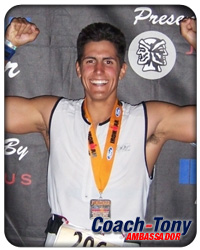 Daniel's 2011 Accomplishments:
Grape Stomp Sprint Tri (3rd Overall)
XC Mountain Bike Race (1st in Div)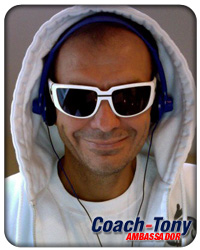 Bob has a background in cycling and a very good runner. Bob is one of few athletes with a chance to qualify for Kona. Watch his times this year at Ironman St George.
Bob's 2011 Accomplishments:
Avalon 50 miler 13th overall
Death Valley 200
Xterra Renagade 15th overall
Tatterthon trail marathon 13th overall
Sundown 1/2 iron, 2 in Div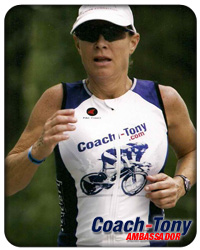 "It was a girlfriend's brilliant idea Sandy get involved in triathlon and she's been hooked ever since. Sandy's going after the half ironman distance this year at Oceanside."
Sandy's 2011 Accomplishments:
Race on the Base (3rd in Div, 6th Overall Lady)
Oceanside 70.3 Triathlon
Race on the base - 1st place age group
Desert Triathlon 6th age group
Oceanside 70.3
Palm Springs 1/2 marathon - 20 age group
Gladiator Rock and Run - 7th age group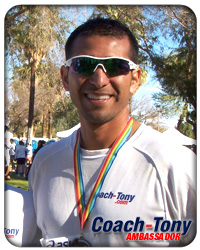 \

New to the sport of triathlon, Alex is headed for many podium days and the catalyst athlete behind the CT Ambassador Program. A quick learner and hard worker, Alex has a good chance to reach Kona someday.

Alex's 2011 Accomplishments:
Race on the Base
Grape Stomp Sprint Triathlon
Pasadena Sprint Triathlon
Tour de Palm Springs + Palm Springs Half Marathon Brick Weekend
Wildflower Long Course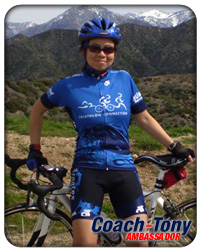 Sinta has completed various marathons including San Diego, Honolulu, LA, Vancouver, NY, SF, and LV. With a background in running Sinta transitioned well into triathlon completing Ironman 70.3 Baja, Big Kahuna and Soma triathlons also collecting various medals along the way. Sinta is one of several Coach-Tony athletes completed Ironman Arizona in 2008, Ironman Louisville 2009, and Ironman Utah 2010.
Sinta's 2011 Accomplishments:
Race on the Base (3rd in Div, 6th Overall Lady)
Desert Triathlon
Pasadena Sprint Triathlon (3rd in Div, 5th Overall Women)
Grape Stomp Sprint Tri (3rd Overall Women)
Big Rock Olympic Tri (3rd in Div)
Wildflower Half Ironman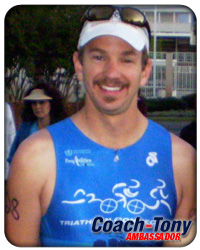 Tyler was born in Great Falls, Montana. Like most, Tyler went to the gym to lose some weight. Seeking motivation, he decided to do a 5k. Thereafter, he gave the Tin Man Triathlon at Cal State a shot and was hooked. After completing 12 short distance triathlons, Tyler gave the half Ironman distance a shot completing the SOMA Triathlon in Tempe Arizona. Tyler hopes complete every Ironman event at least once before he dies beginning with Ironman Louisville in August of 2009.
Tyler's 2011 Accomplishments:
Race on the Base
Pasadena Sprint Triathlon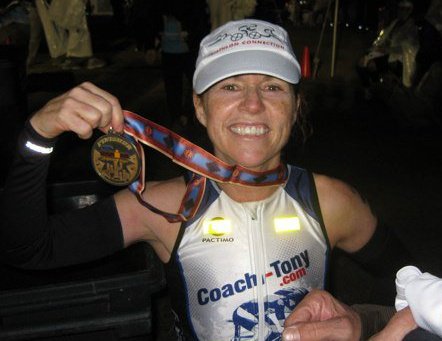 Cynthia Windell completed her first Ironman (Arizona) in 2010 and is now training for Arizona 2012. She has completed several Olympic races and Barb's Race Half Ironman. With a new Felt and Coach-Tony fit, Cynthia is hooked on triathlon..
Tyler's 2011 Accomplishments:
Ionman Arizona 2010
Barb's Race 2010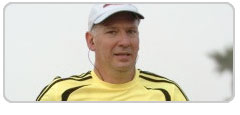 Andy is a strong runner and very good short course triathlete. With a recently improved swim (thanks to Coach-Tony), Andy is stepping up to the Olympic distance at the Desert Triathlon in La Quinta. Mountain biking is one of Andy's strong suits. Andy has lived in La Verne his whole life. He has been practicing as a tax advisor and business consultant for over 24 years. A graduate of California Polytechnic University, Pomona, Andy received his C.P.A. in 1992 and is a member of the AICPA. He serves on Boards for Boy Scouts of America, Y.M.C.A., Junior Chamber of Commerce (JAYCEES) as well as an Ambassador for the La Verne Chamber of Commerce. Oh, and Congratulation to Andy for completing his first Half Marathon in 1:37.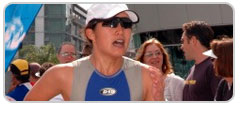 While backpacking through Australia, Melinda and her friend awoke one morning to see cyclists and runners crisscrossing the road outside their hotel. After finding out that it was the Australia Half-Ironman, then held in Cairns, the following conversation ensued... Melinda: "Wow, that'd be so awesome to do a triathlon." Susan: "Then go do one." Melinda: "Ok." Despite never having run more than 5K, Melinda signed up to do the Wildflower Olympic distance triathlon through Team in Training. She enjoyed training so much that she vowed to do Ironman Arizona two years later, which she did. Along the way, she has completed Wildflower Olympic again, along with Half-Ironman California, Barb's Half-Ironman, Soma Half-Ironman, St. George Marathon, and Half-Vineman. She eagerly anticipates doing Wildflower Long and Great Floridian next year.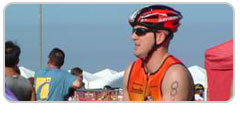 Chris is a great student of triathlon training, who increased his strength, speed, and endurance very quickly. Chris's hard work earned him a first time Half-Ironman finish of 5:35 at Big Kahuna in Santa Cruz, CA. Chris will be heading to Half-Ironman California in March 2006.

I have been married to my gorgeous wife Jill for 15 years. I have two boys, Brandon and Nicholas. I am an information systems manager and have worked in the computer industry for 18 years. My hobbies include triathlons, fishing, and traveling. I consider myself to be a healthy and physically fit person. Prior to getting married I was active and kept in youthful shape with little effort.

Read more...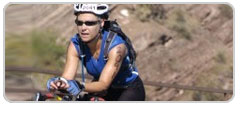 Molli Rathstone is an A.C.E. cerified personal trainer and Certified Boot Camp Instructor she owns and operates Inland Empre Boot Camp with her husband Tony Rathstone. They brought their boot camp to Rancho Cucamonga 5 years ago and have been helping people reach their health, fitness and weight loss goals ever since. Inland Empire Boot Camp, offers- Women Only Boot Camps, Co-ed camps, Yoga Boot Camps, Personal training, Weight Loss Counseling, Sports Nutrition and fitness getaways called "Skinny Vacations". For a full description of their services visit
www.InlandEmpireBootCamp.com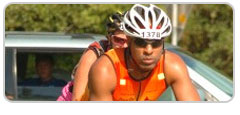 Phil Howard is a pilot for Southwest airlines, a family man, and a great example that you can have a very busy life and go 12 hours at an Ironman. Phil went 12:10 at Ironman Florida by training and racing smart. Phil has caught the bug. The day after IM Florida, I listen to Phil list all the things he could have done different to go faster. My my I thought to myself… I've created another monster. Congrats Phil on a very impressive first time Ironman. (Psst, Phil used a coach-tony training plan)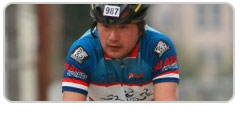 Sang doesn't fool around when he starts something. Sang has completed the Possibilities Triathlon in Loma Linda twice, the LA Triathlon, the LA Marathon, and the Rock-n-Roll Marathon in San Diego. Next on Sang's list is the Big Kahuna Half Ironman in Santa Cruz and then Ironman Arizona in 2008.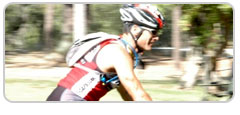 Troy is a 7 time Ironman finisher and 3 time Boston Marathon qualifier looking to compete next at Ironman Arizona. After undergoing major back surgery last year, Troy has come back strong. In the last several months, Troy has finished Ironman Coeur d'Alene and Vineman Half Ironman. Troy then went to Davis, CA and completed the CaliforniaMan Half Ironman in 4:54. Besides competing in triathlons, Troy plans to qualify for the Boston Marathon...again.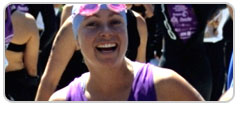 Another newbie to triathlons, Franki has also completed the difficult Wildflower Olympic distance course as well as the Desert Triathlon near Palm Springs, CA. Not sure what all the triathlon world would entail, Franki said, "the camaraderie, improved fitness level, and overall fun experience created a much welcomed adventure."
Read more...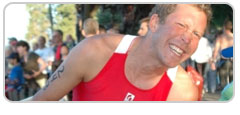 Josh is the Head Cross Country Coach at the University of La Verne. Josh is an incredible athlete. In 2006, Josh completed his first half Ironman in 4:28 and his first Ironman in 11:43. Not bad for a first year triathlete. Josh loves to run, and enjoys hurting his coach as much as possible during training. Josh is a great training partner because training its always fun for Josh.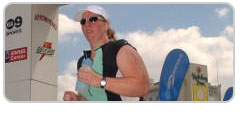 Lesley started with sport of triathlon by attending a Team in Training (TNT) information meeting in December of 2003. After facing her own cancer scare and given a clean bill of health, she jumped at the chance to get involved. Lesly completed the LA Tri at the Staples Center. As a TNT mentor, supported the Wildflower and Kings Trail triathlons. That is when I met Coach Tony for the first time; he was one of our coaches for that TNT season. I liked him so much I decided to keep him as my coach! Thanks Tony for all the support and advice, you are the best!!

Read more...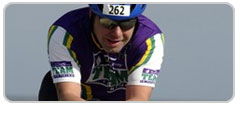 Ironman, Dad, Husband, and Lawyer (...in his own words) Two years ago I was really fat lawyer. Triathlon started out as a way of setting some measurable goals for fitness. It didn't take long before that turned into a full-fledged obsession. Tony was my coach for my first tri, the 2005 Wildlfower Olympic Distance. He helped instill such confidence in me that, I had signed up for an Ironman before I even began to taper for that race. The jump from Olympic Distance racing to Ironman was long journey that involved more emotional growth than physical. That growth is what is most special about this sport to me. Anyone can do this sport, if they are willing to sacrifice a little. I'm finding that most areas my life are the same. In just over two years, I've gone from not being able to run 200 yards to an Ironman finisher.

Read more...
<<

Start

<

Prev

1

2 Next > End >>


Page 1 of 2