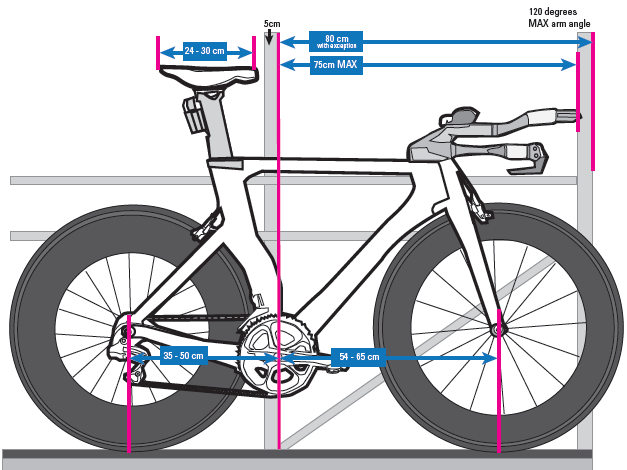 A successful triathlon bike fit results in comfort, aerodynamics, increased power, speed, endurance, and confidence. But none of these are possible without first finding a comfortable saddle. Therefore a good bike fit begins with the correct saddle selection. If you're not comfortable in the saddle, the remainder of the bike fit will not be precise or effective because you will continue to compensate for saddle discomfort.
Saddle selection begins by understanding how to use a triathlon saddle. Observe experienced triathletes in the aero position; you could see much of the saddle unused behind the athlete. In the aero position, a triathlete's center of gravity is more forward than on a road bike. Your weight is shared across 5 pressure points; saddle, pedels, and arm rests. Comfort in the aero position includes having the confidence to share your weight across the bike. To do this, you need to use your saddle as support, not a rest area. A good bike fit includes a saddle that allows you spend 80% or more of your ride time in the aero position.
The following is a list of the most popular and most effective triathlon saddles on the market. I'm sure one of these saddles will solve any saddle discomfort. If not, fear not as there is a saddle for every butt.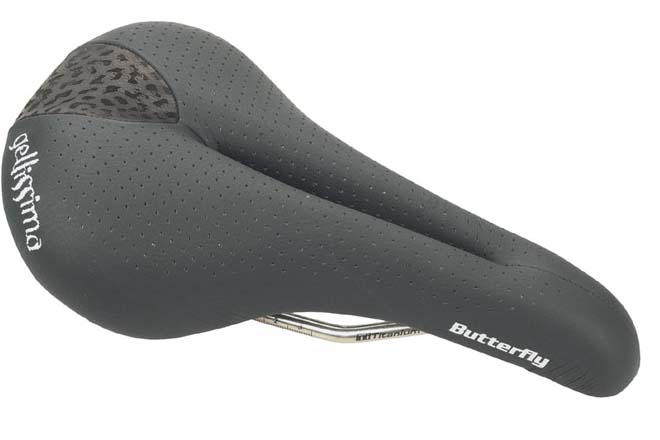 Terry TRI Butterfly Saddle
Ladies first.  The Terry TRI Butterfly takes one of the best-fitting womens saddles on the market and adds gel padding and a more resilient cover. Just like the Butterfly, this saddle is perfect for a woman looking for a cutout and ample padding, but still at a low weight; 310g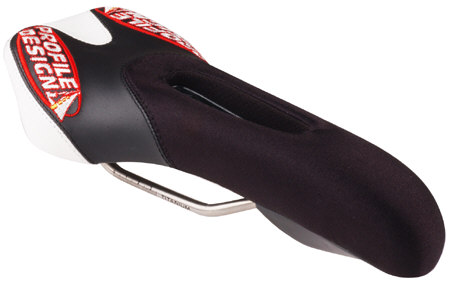 Profile Design Tri Stryke Saddle
The Profile Tri Stryke was designed specifically for triathletes. With a cushiony front end, its very comfortable wile in the aero position.  Features include Triathlon specific design, Transition rack friendly with areas on both the front and rear that make it easier to rack your bike Cut-away with vents for comfort and easier moisture transfer after the swim Additional padding for all day comfort Ti rails Lycra cover on front section for comfort and softness.  Weight 285g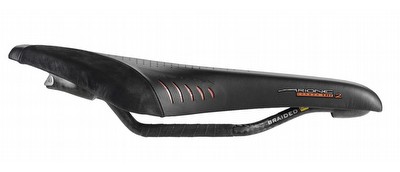 Fizik Arione Tri2 Carbon
For those of you who prefer a road like feel, Fizik makes various triathlon saddles in the Arione and Vitesse modles.  These models are more narrow and shallow allowing the thighs to glides alloong whta they call the Glide Thigh Black suede.  Rail Braided carbon 7x9mm Weight 189gr. The Arione Tri 2 braided Carbon merges carbon Wing Flex™ which originated on the Arione, the carbon Twin Flex™ of the Aliante and now braided technology Additional nose padding for increased comfort. Seamless nose cover design for smooth transitions to the front of the saddle.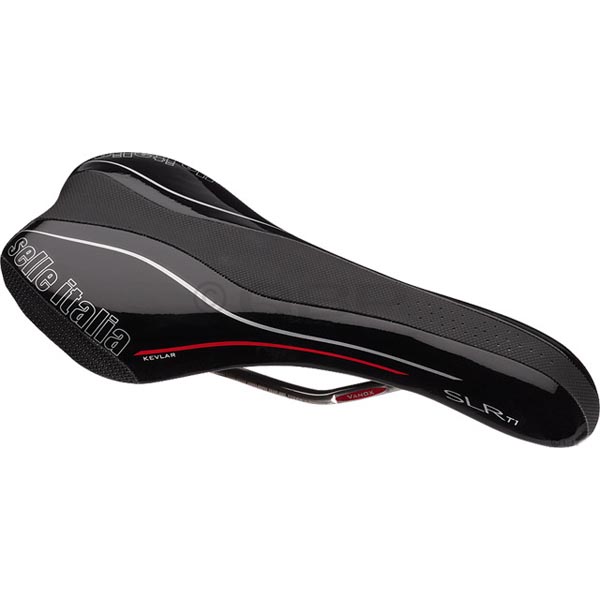 SELLE ITALIA SLR T1 TRIATHLON
The renowned SLR base added a padded gel nose to attract the triathlon and time trial market. It has a carbon shell and kevelar rear area to ensure greater durability. Vanox tubular titanium rails.  Good combination features and ultra light weight;205 grams.  Features include carbon shell, padding fashioned from EVA and featherweight rails, oversized SLR shape designed (good for Triathlon/Time trial use) with carbon insert at rear and a oversized drop nose at front. Tubular Vanox rails.  The design greatly reduces discomfort that can result with time spoent in a lower forward time trial position.  Anatomic groove. Widened nose section with additional padding.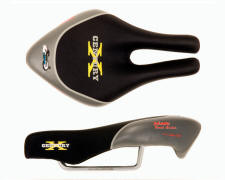 ISM Adamo Century Saddle
In just four years, ISM has been the saddle of choice for Olympians, Ironman Triathlon Athletes, Professional European Bike Racers, and Weekend Warriors. The saddle with the fastetest growing fan base is the ISM Adamo Century Saddle.  The saddles are patented unisex models and remove pressure off the pudendal nerve and arteries in both male and female riders for un-paralleled comfort.  Not cheap but well worth the dollars.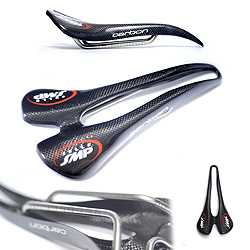 Selle SMP Series
Selle SMP provides a series of foward thinking saddles that will resolve any fitting problem other saddles cannot.  However, be prepared to pay through the nose.  See (http://www.sellesmp-bicyclesaddles.com/2ˍproducts.php) for a selection of Selle SMP saddles.  They provide protection for your blood profusion while retaining high levels of comfort in an ultra light weight competition saddle. Ride for longer, in more comfort and with better blood flow in the top of the range competition saddle from Selle SMP.